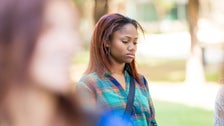 We are used to the redemption arcs by now. These stories are trotted out and sensationalized. Schools are called to action, and then the cycle ends with the guilty parties reciting a prewritten apology. We continue to treat these incidents as isolated scenarios rather than a reflection of Greek life overall, and nothing is changing. This is because racism is as much a part of mainstream collegiate Greek life as Bigs and Littles.
I am a member of a sorority myself and a black woman. I pledged in New York City, a supposed paradise of liberalism and post-racial equality — but the Greek life that exists here doesn't reflect that. People of color often notice that we have not received full acceptance outside culturally defined sororities and fraternities.
Many of the people I went to school with had grown desensitized to the way fraternities assigned racial stereotypes as nicknames to their own members. Someone I dated told me that his fraternity brothers commonly used racial slurs, but that he had no idea how to address it. When I heard members of my own sorority using slurs, I wasn't sure how to handle it either. One multicultural fraternity member openly laughed when his brother told me that I had "slave feet" ― and members from my organization and theirs told me not to make a big deal out of it.
"Racism is as much a part of mainstream collegiate Greek life as Bigs and Littles."
Quite commonly, people of color are asked to "not make a big deal" out of racism, to be the bigger person. Sometimes, we are even challenged when we call out racism. We are labeled oversensitive or overaggressive or too punitive. We are asked to teach, rather than challenge.
In Greek life, these same attitudes exist alongside a code of silence and a need to prioritize the greater good of the organization ― a greater good in which anti-racism is not necessarily a central component, but something everyone might get around to someday. Racism is so normalized within this subculture that some people won't even acknowledge it and others don't even see it.
The stories that make headlines are the easy ones. They are captured on video and posted on social media, and they allow us to see justice move swiftly. They make us feel good. But there is so much racism that goes unreported and unchallenged, that is met with gaslighting. Our secrecy around these stories becomes a curtain of protection.
The Greek system wasn't created to benefit people of color in the first place. In fact, it intentionally left us out. A number of the original sororities and fraternities installed policies to explicitly bar nonwhite members from joining after campuses diversified following the Civil War. These policies were eventually removed, but even without them, the Greek system continued to exclude people of color.
The Stanford chapter of Kappa Sigma faced suspension in 1967 after they allowed a black person to pledge. In 2013, a sorority claimed that its alumnae members intervened to make sure black women were not allowed to join. And in 2015, when the University of Oklahoma chapter of Sigma Alpha Epsilon was shut down for singing, "There will never be a nigger in SAE," it came out that the chant had been taught across chapters, suggesting that excluding black people from membership was embedded in the DNA of the national organization.
The exclusion of people of color wasn't just about maintaining the status quo of a "social club." Greek organizations are often a tool for influence to be created and maintained. Eighty percent of Fortune 500 executives, 76 percent of U.S. senators and House members, 85 percent of Supreme Court justices, and all but two U.S. presidents since 1825 have been members of fraternities, according to Cornell University, suggesting that Greek cronyism and bloc voting plays a role in politics.
"The Greek system wasn't created to benefit people of color in the first place."
At the University of Alabama in particular, a coalition of 28 majority-white sororities and fraternities known as "The Machine" has significant influence, including sway in student government elections and beyond. They have used their power to intimidate and cause physical harm to candidates they disapproved of, prevent black people from joining Greek life, and bribe people to vote in city board elections. While this doesn't describe Greek life at every school, it displays how sororities and fraternities are capable of harming people of color in more profound ways than simply making them feel left out.
It's understandable that we don't want to diminish the benefits of the Greek system by further demonizing it. Instead of accepting that racism is a particular problem in Greek life, we cling to the explanation that racism exists outside this community, too, and therefore the solution isn't our responsibility. This argument distracts us from effecting real change. Just as we see hazing and binge drinking as inherited ills of Greek life, so should we perceive racism.
"If organizations claim to care about diversity, they must actively combat discrimination."
Similarly, Syracuse University is forcing all student and Greek organizations to take implicit bias and inclusivity training after the Theta Tau incident. These programs are valuable, but they cannot happen only in the aftermath of on-campus racism. We can take cues from the Interfraternity Council at the University of California, Los Angeles, which organized a panel on racial and cultural identity as part of a long-term strategy for addressing racism in Greek life.
Individual sororities and fraternities should also institutionalize racial inclusivity by incorporating diversity training into their organizational operations, particularly the member intake process. If organizations claim to care about diversity, they must actively combat discrimination. While only some people in Greek life may exhibit racist behavior, it is still our collective responsibility not to stand for it and to be the leaders we boast that Greek life has transformed us into.
It is also important for colleges and universities to work harmoniously with Greek organizations. So often, the answer to "the problems of Greek culture" has been to ban it altogether. Rather than solving anything, this pushes these organizations underground and increases the pressure on members of color to maintain secrecy by staying silent.
When we see the Greek system as an inextricable part of collegiate life, we stop trying to eliminate it and instead work to help it serve all people.