---
Within the walls of Phi Delta Theta's General Headquarters, you can find a roster of individuals who care deeply for the Fraternity and spend their working hours helping to take Phi Delta Theta to new heights. The organization's family-like culture provides a valuable work experience in many different areas within the Fraternity.
Not only has Phi Delta Theta General Headquarters recently been Certified™ by Great Place To Work® in the United States, in addition, Phi Delta Theta is also excited to share a few staffing updates. On July 1, 2023, a reorganization occurred to serve the Fraternity's members best, provide a life-long membership proposition with more ways to be engaged with the organization, gain a deeper understanding of the life-long membership experience using analytics, and bolster the success of the Iron Phi program. This included the transition of Steve Good from Senior Vice President of Engagement and Philanthropy to Executive Director of the Iron Phi Foundation, and a revised and enhanced Engagement Team listed below. These changes will further help Phi Delta Theta on its path to providing transformational experiences and being recognized as the premier fraternal leadership development society by 2030.
"While we've always talked about Phi Delta Theta as a Fraternity for life, we haven't previously integrated our storytelling, opportunities for engagement, and the ability to track our effectiveness in delivering these strategies until now. Dylan Berg will lead the Engagement Team as vice president of engagement and analytics. We're very fortunate to have him at the helm bringing strategic and thoughtful leadership. Additionally qualifying him for this post is his wealth of General Headquarters experiences, including a wide array of roles and implementing our most recent technological advances, including our CRM, which will be the backbone of tracking our member journey. Joining him, we've assembled a roster of immensely talented servant leaders who are committed to further articulating and broadening the Phi Delt story and helping others find their place within it," said Sean Wagner, Chief Executive Officer.
---
Dylan Berg, Vice President of Engagement and Analytics
As the vice president of engagement and analytics, Dylan's primary responsibility is to gauge and enhance the impact of all communication tactics, cutting-edge technology, and programming to expand engagement opportunities and affinity to Phi Delta Theta. Dylan additionally monitors the overall effectiveness of Phi Delta Theta's strategic initiatives in Phi Delt 2030, ensuring Phi Delta Theta remains at the forefront of innovation in the fraternity landscape. He previously served as senior director of systems and analytics, director of chapter services, colony development specialist, and a number of other roles at the General Headquarters.
Dylan completed his undergraduate studies at the University of North Dakota in Entrepreneurship and Management, is a graduate of IDEO U with a certificate in Collaborative Leadership, and is a Certified Salesforce Administrator and Lean Six Sigma Black Belt.
Dylan lives in Park River, North Dakota with his Alpha Chi Omega wife, Josie, and daughters, Maren and Ivy. In his free time, he enjoys spending time with family, supporting the local community, gardening, traveling, and college hockey.
"I'm incredibly excited and honored to lead our new Engagement Team, which combines extensive expertise and experience essential to the success of Phi Delta Theta. Jennifer, Zach, Kate, John, and Renee have served Phi Delta Theta for many years, bringing their valuable skills in events, communications, social media, technology, chapter support, expansion, and alumni engagement to form a dynamic team focused on integrated communication, engagement, and technology. Timmy's recent undergraduate experience will also benefit our efforts to engage with our active membership in the ever-changing higher education industry and on-campus experience. We cannot wait to see the continued positive impact this group will have on Phi Delta Theta," Dylan Berg, Vice President of Engagement and Analytics shared.
---
Zach Hilliard, Senior Director of Alumni Engagement
As the senior director of alumni engagement, Zach provides strategy and leadership to develop, implement, and execute a comprehensive program designed to provide meaningful opportunities for Phi Delta Theta alumni to enhance loyalty, dedication, and support for the Fraternity. He works with the Fraternity, Phi Delt Foundation, Iron Phi, and Live Like Lou Foundation staff to cultivate an atmosphere of engagement and volunteerism for our members, alumni, and friends. Zach joined the General Headquarters staff in 2014 as an expansion consultant, later moving to the Foundation team as an advancement officer.
In 2020, Zach began a career in higher education, serving as the assistant director of admissions at Frostburg State University, where he was responsible for the development and execution of first-year student recruitment, implementing recruitment activities, and coordinating recruitment travel for admissions counselors. Most recently, Zach served his alma mater, Indiana University of Pennsylvania (IUP), as the director of alumni engagement, where he led the development and execution of engagement strategies that foster alumni commitment to IUP by establishing and coordinating events and programs for alumni. Zach joined the Ohio Lambda Emerging Chapter at Kent State, where he studied aeronautics. He later transferred to IUP and re-founded the Pennsylvania Lambda Chapter, where he studied communications media and public relations.
Zach currently lives in Indiana, Pennsylvania, and enjoys running, mountain biking, skiing, and traveling the globe in search of the world's best beaches.
---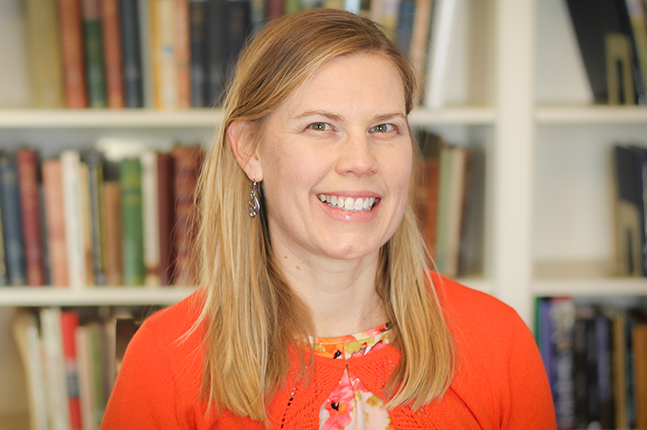 Jennifer Morrow, Senior Director of Marketing Communications, and Dr. William F. Dean Endowed Chair in Editing and Communications
As the senior director of marketing communications and Dr. William F. Dean endowed chair in editing and communications, Jennifer promotes the organization's values to members, potential members, and stakeholders, while assisting in the accomplishments of all related engagement strategies of Phi Delta Theta, outlined in its strategic plan Phi Delt 2030. These tasks include leading the organization's communications calendar, brand standards and alignment, design, editing, writing, managing the creation and distribution of The Scroll magazine, and Salesforce Marketing Cloud email marketing. In addition, as The Scroll editor, she will continue to work with undergraduates, alumni, and GHQ staff to create and gather content, proofread, and ensure all messaging aligns with the values of the Fraternity.
Jennifer joined the Fraternity staff in July 2016. She brings over twenty-five years of experience as a graphic designer, with fifteen of those years working on various projects for Phi Delta Theta, including The Scroll.
She graduated from Ohio University with a BA in English and a minor in history. The love of reading, history, and travel led her to study abroad in Wales at Swansea University during her junior year. Jennifer lives with her husband, Mark, and three cats in Kettering, Ohio. Outside the office, she enjoys reading, yoga, cycling, travel, music, gardening, cooking, and photography.
---
Kate Fulmer, Director of Strategic Content
As director of strategic content, Kate promotes the values of the organization to members, potential members, and stakeholders, all while supporting the communication and media strategies of Phi Delta Theta, outlined in its strategic plan Phi Delt 2030. This includes supporting the branding efforts of the Fraternity, strengthening communication amongst chapters through digital strategy, and organizing content for communication channels to engage with audiences. In addition, Kate works to create relationships with other organizations, vendors, and media professionals to complement the Fraternity's story and continued growth.
Kate joined the Fraternity staff in May 2021. She is a graduate of Northern Kentucky University (NKU), where she earned her BA in public relations. During her time at NKU, Kate held leadership positions in several organizations, including being the president of NKU's Public Relations Student Society of America (PRSSA) chapter. Kate is also a proud member of Delta Gamma Fraternity.
Kate currently lives in West Chester, Ohio, with her fiancé, Mitchell. Together they are pet parents to their spoiled cats Kevin and Russell, and their Norwegian elkhound puppy, Gideon. Her hobbies include photography, event planning, pretending to be a film critic, and traveling (particularly to Disney World.)
---
John Fenner, Director of Systems
John Fenner, St. John's '20, serves as the director of systems. He earned a bachelor of science in management followed by an MBA in strategic management from the Tobin College of Business at St. John's University. He also recently earned an MEd in higher education leadership from the Tift College of Education at Mercer University. John has previously worked in student affairs at Millsaps College, where he was the coordinator for campus life. As an undergraduate, he served the New York Lambda Chapter as president and secretary. As an alumnus, he also served on the chapter advisory board for the chapter.
Originally from Queens, New York, John now lives in Downtown Cincinnati, Ohio. He enjoys traveling, reading, learning the pipe organ, staying involved with a downtown Catholic church, and tracking down a "real" slice of pizza.
---
Timmy Paul, Digital Strategy Coordinator
Timmy recently graduated from Southern New Hampshire University with a BA in communications and is now a part of the engagement team as the digital strategy coordinator at General Headquarters. In his role, he will assist in Phi Delta Theta's communication and marketing, video, social media, website, and chapter content strategies.
In November of 2022, he organized multiple fundraising events on campus as philanthropy chairman for his chapter and became New Hampshire Beta's third Iron Phi. Timmy also held positions for his chapter as the warden on the executive board and was New Greek Leader of the Year upon joining Phi Delta Theta. At Southern New Hampshire University, Timmy worked for the campus volunteer center and organized many volunteer events to get students involved with clever promotion across the center's social media accounts.
Timmy currently lives in Salem, Massachusetts, and enjoys spending time with his family, camping outdoors, and keeping up with New England's sports teams.
---
Renée Crist Lefter, Events & General Headquarters Coordinator
As the events and General Headquarters coordinator, Renée is tasked with providing support and leadership to related strategies in regard to the events of Phi Delta Theta outlined in its strategic plan – Phi Delt 2030. Renée oversees all logistics that include registration, lodging, and travel to ensure every attendee of an event has an impactful and meaningful experience. She will also oversee the operations of the General Headquarters facility. Renée most recently worked with the Member Development and Support Team and has spent the majority of her tenure involved with the Chapter Services division since beginning in 1988.
A lifelong resident of Liberty, Indiana, she enjoys spending her spare time reading, gardening, participating in 5Ks, cooking, and traveling on their motorcycle with her husband, Kevin. She is a proud mom of two adult sons, Dalton and Dakota. Renée became the first female to become an Iron Phi at the 2014 Kleberg Emerging Leaders Institute when she completed her first 5K.