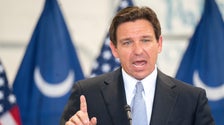 Alpha Phi Alpha, the nation's oldest Black fraternity, said it will no longer hold its 2025 convention in Orlando, making it the latest group to switch venues out of disdain for policies implemented by Florida's hard-right Republican governor, Ron DeSantis.
The convention drain, reported by local news outlets, comes as the state economy is still heavily dependent on tourism.
Willis L. Lonzer III, the fraternity's president, said in a Wednesday statement that DeSantis had set in place "harmful, racist and insensitive policies against the Black community."
Just last week, the governor announced that Florida schoolchildren would be taught that the institution of slavery contained benefits for Black people, drawing instant and widespread condemnation. The Florida Department of Education sought to defend itself with a list of Black people who supposedly developed "highly specialized trades from which they benefitted" during their time in bondage, but critics pointed out the list was highly inaccurate.
As a 2024 presidential candidate, DeSantis has ramped up his war on what he calls "wokeness" in schools, outlawing discussion of LGBTQ+ people in more classrooms and barring public colleges from spending money on diversity, equity and inclusion programs. That's in addition to new policies that dilute the Black vote, penalize immigrant workers, severely restrict abortion care and attack Disney, one of the state's largest employers.
Earlier this year, the NAACP issued a travel alert for Florida, warning Black travelers that it was an "openly hostile" place.
"In this environment of manufactured division and attacks on the Black community," Lonzer said, "Alpha Phi Alpha refuses to direct a projected $4.6 million convention economic impact to a place hostile to the communities we serve."
Alpha Phi Alpha alumni include civil rights icon Martin Luther King Jr., writer W.E.B. DuBois and Thurgood Marshall, the first Black person to sit on the Supreme Court.
At least a dozen organizations have said they are also pulling planned conventions out of Florida in response to the political climate, according to local news media. Among them are the National Society of Black Engineers; the American Specialty Toy Retailing Association; the Association of Farmworker Opportunity Programs; the Supreme Council of America's Ancient & Accepted Scottish Rite Masons; and a "Game of Thrones" convention dubbed Con of Thrones.